The best office designs around the world.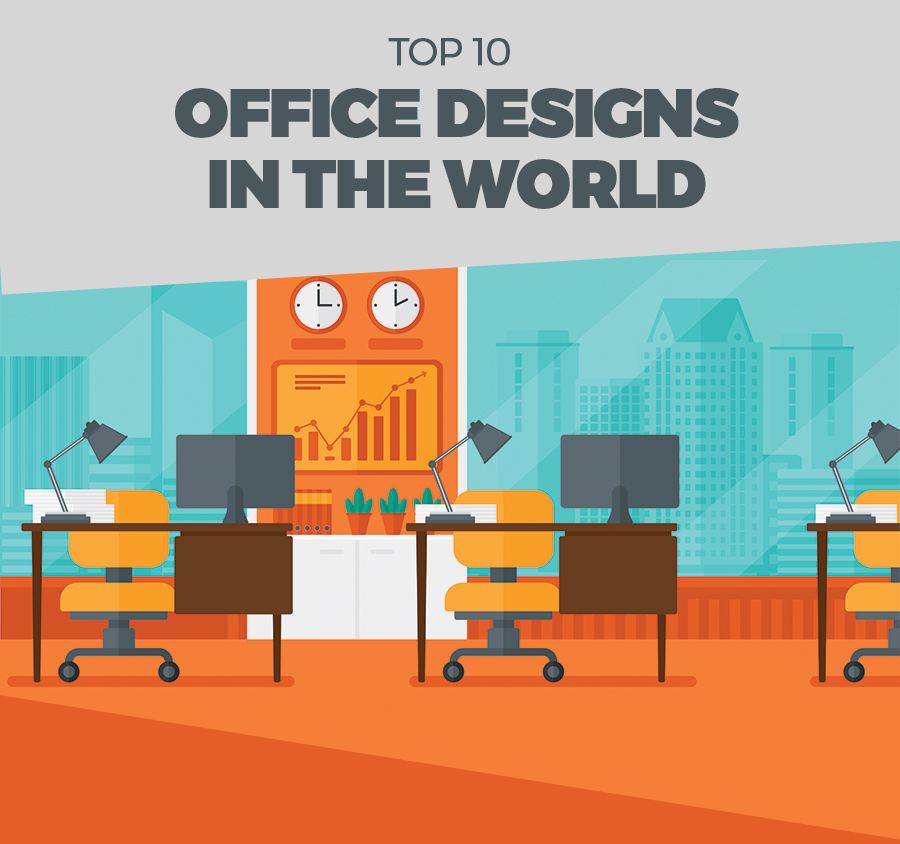 Looking for inspiration? Look no further!

Join us in exploring some of the best designed offices from around the globe…
inventionland
pittsburgh, usa
America's largest invention factory is made up of 16 unique themed areas where ideas are brought to life step-by-step. Thought up around the table in the Inventalot Castle, these ideas are then processed through Davy's Treehouse, brought to life inside the Animation Attick and take off at the Inventionland Motor Speedway! But how are these inventions inspired you ask? Well, that's all down to the sights and sounds of shipwrecked pirate ships, running waterfalls and life-like trees and sidewalks!
White Mountain Office
stockholm,sweden
This incredible former anti-atomic shelter is located 30 meters down under the granite rocks of the Vita Berg Park, Stockholm. Now home to an internet provider, the natural shape of the rock provides great space for server rooms- although the rock did have to be partially blown up to create extra space to provide a safe environment for humans to work in.
Pallotta Teamworks
california, usa
After outgrowing its existing premises in 2002, Pallotta Teamworks, a charity fundraising organisation required a new location to not only hold, but to also inspire its employees. With a fairly limited budget, Pallotta Teamworks created seven tented villages within a large mezzanine warehouse by using shipping carts to reinforce its message of responsibility and sustainability.
Built in 2007 by architects Jose Selgas and Lucia Cano, this tube-like office located in a forrest just outside Madrid allows employees to feel like they're working in the great outdoors. Half of this aerodynamic office is dug into the ground to ensure it stays cool during the scorching summer months. The long window that runs along one side of the building eliminates the need for artificial lighting, whilst the other boasts an insulated fibreglass wall to help shade the office's staff from the direct sunlight. An open view of a beautiful spanish forrest – what more could you want?!
Google moved their Dublin employees to a new complex in 2013, and what a complex it is! The 507,000 sqft premises are home to an ever growing team coming from over 35 countries and speaking over 45 different languages! Some spaces within the building have been nicknamed 'Clown College', 'Funland' and 'Bouncing Castle' and employees have the opportunity to navigate around work areas, cafeterias and take a stop off at the Irish Pub via Segway! As if that wasn't cool enough, all food and drink at Google is FREE!
microsoft
vienna, austria
In 2011 Microsoft joined lthe likes of Google in creating a playground-like working environment for its employees. The idea behind this innovative design was to combine physical, virtual and social working aspects. Like many, the office features amazing meeting rooms inspired by themes and in this case they comprise of 'flow', 'nature' and 'New York'. The ultra-modern furniture on each floor is complimented by a wall of living plants and there's even a slide that employees can use to glide from one floor to another!
air bnb
san francisco, usa
This building was designed to showcase Airbnb's global expansion, and does so incredibly! Guests are guided through a plethorer of cities that have been key in the growth of the company, starting with a reception area dedicated to Brooklyn- where Airbnb's success began. Relaxing cafe's and hotspots are cleverly designed around Cairo and Mumbai and employees can also find peace in Shanghai lofts, Italian living rooms and Mexican log cabins!
The idea behind this spectacular office design was to enable it's employees to work in an organised yet active and vibrant environment that's drenched in natural light. Special features of this office inlude a 'Back to The Future' themed break-room, a ping-pong culture wall and quirky meeting rooms separated into the 'Romance Chamber', 'Break Up Room' and 'Arrears'.